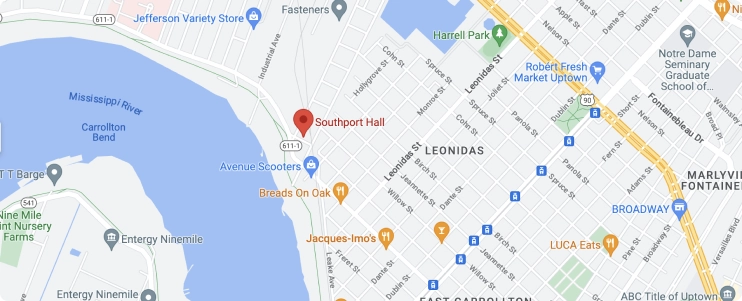 Directions from I-10E
Travel east on I-10.
Take Exit 228, the Causeway Blvd S exit.
Keep right and follow the signs for Causeway Blvd S (0.1 miles).
Merge onto N Causeway Blvd (0.3 miles).
Continue straight onto Causeway Blvd (2.2 miles).
Use the middle lane when crossing the bridge.
Continue to the River Road intersection (0.3 miles).
Turn left on Pope St. (1.2 miles).
Turn left onto Dakin St. (50 feet).
Directions from I-10W
Travel west on I-10.
Stay on I-10 West until reaching Exit 232, which is Carrollton Ave/Highway 61 North/Tulane Ave.
Take the exit for Carrollton Avenue South, using the far right lane.
Continue onto Dublin St, covering a distance of approximately 0.3 miles.
Make a left turn onto Dixon St, which is just 0.1 miles ahead.
Take a right turn onto S Carrollton Ave, traveling approximately 400 feet.
Turn right into the parking lot for Southport Hall.
Proceed to turn right onto Highway 90 West/S Claiborne Ave, continuing for about 0.9 miles.
After 0.8 miles, make a left turn onto Dakin St.
The venue will be on your left-hand side, approximately 0.8 miles from the intersection.